Posted by Dianna Dapkins, Pure Pro Creator on 17th Aug 2015
Do you have clients with sensitive skin? Do you do soft tissue work with injuries such as carpal tunnel, whiplash, TMJ, and tennis elbow? Do you want a cream that lasts enough for you to move the tissue but doesn't get too greasy, sticky or tacky even if you're focused on a small area for as long as 20 minutes?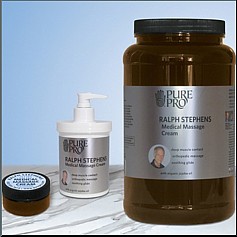 Ralph Stephens has been training massage therapists to do in-depth soft tissue rehabilitation work for over twenty years and he came to me for help in creating the perfect cream for this deep and specific work. Completely unscented, pH balanced, nut free and gentle ingredients so it won't irritate sensitive skin. The Ralph Stephens Cream for Medical Massage has this perfectly balanced, light, clean texture. Your clients will love the feel too.
The texture was designed to meet the needs of Medical Massage therapies. Medical Massage is a results-based treatment that targets a specific problem or diagnosis. Practitioners most commonly incorporate Deep Tissue and Neuromuscular therapies, but Medical Massage also refers to other modalities that require a light, truly hypoallergenic cream. Modalities such as Oncology Massage, Elder Massage, and Hospice Massage find the Ralph Stephens Cream to be the perfect balance for populations who are often dealing with super sensitive skin and prolonged time in bed. These clients can't risk skin breakdown or allergic reactions.The Ralph Stephens Cream allows you to work lightly with absolute contact giving you complete control in working with the tissue. It is super nourishing and soothing as it integrates completely into the skin.If you haven't tried the Ralph Stephens Cream yet, you can order it here. Not ready to commit? Put a note in the Shipping Notes section of your next online order asking for a "free RS Cream trial jar" and we'll put one in with your order. Can't wait to hear how it works for you!