The benefits of massage therapy are enhanced by use of heated and cold stones. Heated stones are selected for their shapes, smoothness and heat retaining capacity. The heat helps to relax and release the muscles for a more soothing and effective massage. Cold stones are made of marble which draws heat from the tissue for transformative effects on the skin.
Pure Pro + Stone Massage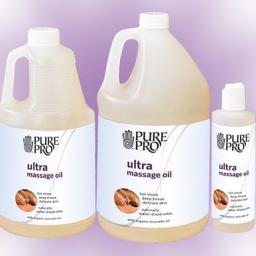 Ultra Massage Oil ™, 8 oz Flip Top Bottle
Cleans off stones, equipment and linens easily and completely
Gives control with just the right glide without being slippery
Leaves the skin soft and silky, not greasy
Hands-down the preferred texture for stone massage
Peppermint Pedango Foot Cream™, 4 oz Refillable Pump Bottle
FEET LOVE HOT STONE MASSAGE!
Soothes tired feet and aching legs
Softens dry, damaged skin instantly
Invigorates and freshens
Jazzes up any treatment making it a special experience
Orange Linen Degreaser for Sheets™, Gallon (128 oz)
YOUR CLEANING MIRACLE!
Sanitizes and degreases completely to keep your sheets like new
Leaves no scent or odor behind
Prevents unsightly stains and dangerous dryer fires
Removes oil buildup from stones - just dilute and soak
Hear what Pat has to say...
Ultra Blend gives me the perfect glide for hot stone massage. It's light enough to allow me to grip the stones, yet leaves no residue on clients, and cleans off the stones easily.
Pat Mayrhofer, Founder/CEO/Instructor, Nature's Stones, Inc.
Interested in learning more about Hot Stone massage and what Nature's Stones can offer you?
We carry several instructional DVDs by Nature's Stones:
The Art of Hot Stone Massage DVD by Nature's Stones
The Art of Hot Stone Facials DVD by Nature's Stones
The Art of Cool Lift Face Massage DVD by Nature's Stones
The Art of Hot Stone Foot & Hand Massage DVD by Nature's Stones
The Art of Hot Stone Reflexology DVD by Nature's Stones
You can also visit the Nature's Stones website
to learn more about their specialty products and upcoming workshops href="http://naturestonesinc.com/"
Read these valuable articles through MassageMag.com from Pat Mayrhofer of Nature's Stones regarding safe and effective use of stones in massage treatments:
Therapeutic Application of Massage Stones: Psoas Muscle (Nov 2011)
Stone Massage for Cancer Patients (July 2011)
Stone Massage for Persons with Diabetes
Stone Massage for Prenatal Clients
Massage Stones: How Hot Is Too Hot?>
The History of Hot Stone Massage
What Is the Best Lubricant for Stone Massage?
Cleanliness with Massage Stones
Cold Stones Offer a Crossover Spa Treatment